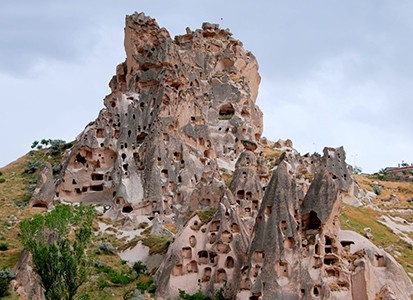 Pick up: 09:00 to 9:30 depending on your hotels location.
Tour end: Approximately 17:00 pm.

Tour Include
- All entrance fees per itinerary
- Professional English-speaking tour guide
- Lunch
- Transfers from / to any cave accommodation
Goreme Esentepe for Panoramic View
Our next stop is at the Esentepe viewpoint, located between Uchisar and Goreme. This stunning panorama overlooks not only the town of Esentepe, but also the surrounding landscape of fairy chimneys.
Goreme Open Air Museum
We will begin at the Goreme Open Air Museum, an impressive collection of monasteries, churches and chapels that date back to the Middle Ages. It served as an important Christian centre of learning and its religious buildings still exhibit elaborate and beautifully preserved frescoes.
Pasabag – Monks Valley
We will then have time to explore the Monks Valley, famed for its three-headed fairy chimneys. This region of is also known as Pasabag, or 'Pasha's Vineyard', as its stunning earth pillars are located within a vineyard.
Devrent Valley
After a short drive we will stop in the Devrent Valley, famed for its lunar-like landscape of small, pointed fairy chimneys. We will take the time to explore the valley and witness some of its most unusual rock formations.
Avanos Pottery workshop
Our final destination is the small town of Avanos, home to a terracotta industry that dates back to 3000BC. The clay is sourced from the Red River which passes through the town and we will have the opportunity to visit a traditional pottery workshop and see how it is crafted first-hand.
Three Beauties
Three Graces are the brilliant three fairy chimneys located near Urgup. It is the most famous natural beauty and symbol of Urgüp. This amazing natural formation is well known not only its enchanting landscape but also its incredible story.